Small garden rooms offer a fantastic way to convert seasonal garden locations into insulated year-round living spaces. If you're considering an extension or other ways of creating useable floorspace in your property, a small garden room might just be perfect for you.
In the wake of COVID, families have led the charge out of urban city living into the countryside. But not everyone who wants extra room can, or necessarily wants, to move out of their home. However, if you have a garden, there may be another solution: small garden rooms.
The limitations of a small garden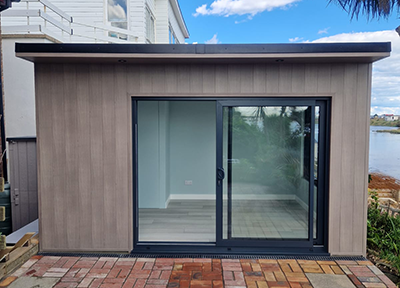 According to the Office for National Statistics, the average garden size in the UK is 140 square metres. This equates to just over half the size of a tennis court!
However, not all gardens are shaped in such a way that there is plenty of open space. With an irregularly-shaped space, you might rule out an extension or garden room on the basis that they are simply too big to fit. On the other hand, you may not want to risk overcrowding your garden further, particularly if it is long and narrow.
Extensions typically require planning permission, which isn't guaranteed and can take months to come through. While flammable construction materials mean you have to leave a sizeable gap between any structure and the boundary.
However, you can overcome all of this with two things: proper planning and consideration. When it comes to small garden rooms, these factors can bring your designs and ideas to fruition.
It's not all about size
The beauty of our garden rooms is that each frame is custom-built to the requirements of each garden. This means you effectively have an unlimited number of sizes and shapes to choose from, so if you want a small garden room, a long one or an l-shaped one to match the shape of your garden, the choice is yours.
Perspective is important and what looks like a small garden room from the outside can feel much more spacious internally. Equally, an oversized garden room in a small space can feel positively gargantuan if poorly planned.
Garden rooms in the South
Whether you want a garden room in Hove, Horsham, Hazelmere or further afield, we are here to help. Your bespoke garden room dream could be next!
In reality, the smallest sizes that are practical tend to be in the region of 8 square metres (86sqft), or 2m x 4m (6.5ft x 13ft). Any smaller and you risk having a space too small to enjoy.
There are a few things to consider though before deciding on whether a small garden room is for you:
Can the dimensions of your garden support a garden room without sacrificing too much space?
Will the room obstruct any other features of your garden, such as bushes or other features?
How will your garden look after construction? Will you need to consider additional grass or patio to add to the garden finish?
Bear in mind that due to the flame-resistant nature of our steel frames and aluminium cladding, we can build much closer to the boundary than most garden room providers. We leave 40cm around each garden room as a minimum to allow our builders to put up the garden room, but also to enable easy access for cleaning further down the line.
However, if you're unsure, get in contact with us so that we can plan the best way to utilise your garden space.
How versatile are small garden rooms?
In terms of how to use your room, the world really is your oyster. If you need a space for a specific reason, then they can fulfil that purpose. To help give you some inspiration, here are six creative ways in which you can utilise a small garden room:
Garden Gym – No need to pay for membership when the gym is right there in your garden! You can even tailor your room to suit your fitness needs, like freeweights for muscle building or a running machine for cardio. You can add in a television, surround-sound speakers, or both if you prefer entertainment while you exercise.
Home office – If you're struggling to keep work and home life separate, a garden office may be the answer. Allowing for efficient and undisturbed work, you can stay in close proximity to home with your dedicated garden space.
Garden playroom – Why not create a space for the children to enjoy outside of the house? By devoting a room entirely to playtime, you can finally get that little bit of well-needed rest indoors. It can also double as a homework/study room, or a music room later on.
Hobby room – Allow yourself to become engrossed in your favourite pastime by removing yourself from the distractions of a busy household. Whether a keen musician or an eager artist, your small garden room is your new best friend.
Guest room – Do friends and family stay over often? Why not dedicate a space entirely to your guests, whilst keeping it separate and private for their own leisure?
Mix and match – Make the most of your garden and garden room by combining functionality. While the inside of the garden room might serve as a home office, the outside could feature a hot tub decking area. If you're green-fingered, you can even add on a potting shed and a tap for easy watering access, combining everything into one.
The best part is that it doesn't matter if you decide to change the purpose of your room later down the line. Let's say the kids grow out of their playroom phase: you could just turn it into an office instead.
Your garden room, your rules
Whatever your vision, we can help. Just let us know what your dream room entails and we can guide you through the rest.
What are you waiting for?
How much do small garden rooms cost?
Here at Castle Garden Rooms, our small garden rooms start from £20,000. This includes everything from the design, to fitting and decorating with our signature Castle Finish.
Anything is possible, so if you have a specific idea in mind, just ask us. In all cases, the plans for your garden room are drawn up by an architect and checked by a structural engineer, which is included in the cost.
This means any modifications or customisations won't compromise the overall structure so you can enjoy your garden room from the start.
Do they stand the test of time?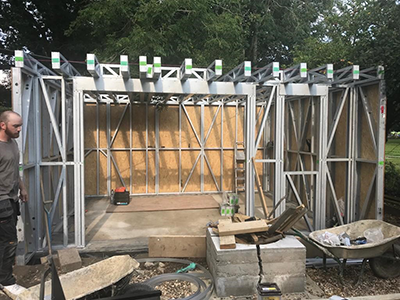 We don't build and supply off-the-shelf garden rooms. Our garden rooms are built of the same materials you would use to construct an extension. We even offer a frame guarantee of 20 years, versus the average 10-year guarantee provided by timber-framed garden room providers.
Instead, we opt for a sturdy and durable steel frame, which won't warp or require maintenance. We also pour a concrete base for each garden room to ensure any chance of subsidence is minimised, rather than simply using ground screws.
On top of that, our aluminium cladding is non-combustible, and comes in a range of traditional and modern finishes meaning you can combine style and safety with your small garden room.
What's the verdict on small garden rooms?
Whether you're looking to expand on household space, or just need a quaint retreat in your garden, the versatility of a small garden room is undeniable. It's a big step, but it's life changing too.
If you're considering the idea, why not give us a call to discuss? We'd be more than happy to help shape your dream escape to your garden.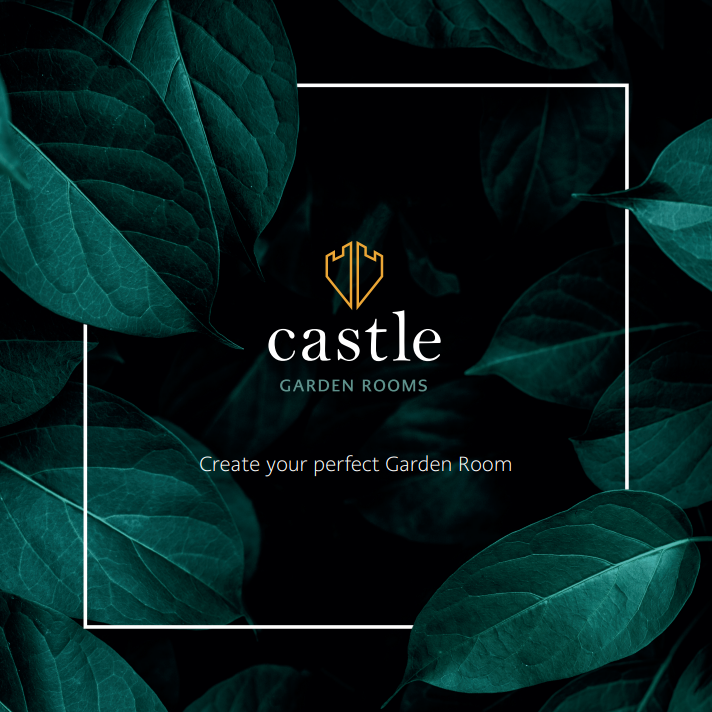 For you to read at your leisure
Filled to the brim with fantastic ideas and suave finishes for your garden room. Why not download your own copy today and browse our wide range of finishes to see how you could really personalise your garden room?